According to a statistics, up to 2020, the production of waste tire in China will reach up to 20 million ton. The growing "Black pollution", make the fragile ecological environment in China worse; therefore, treatment of "Black pollution" caused by waste tire is an urgent task. However, facing with huge amount of waste tires, how can we turn "waste" into wealth?
Current situation of waste-solid rubber pollution in our country: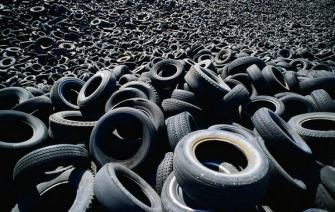 Reasonable and advanced waster rubber processing technology not only can improve our living environment, but also can achieve huge economic benefits.
Green solid-waste processing technology principles for waste tire: Through physiochemical processes of smash, heating, mechanical treatment, etc., waste vulcanized rubber can be converted into plastic and viscous rubber which can be re-vulcanized from elastic state. Green solid-waste processing technology of waste tire jointly developed by Shandong Rongchaung Machinery Technology Co., Ltd., Qingdao University of Science and Technology and Canada Tire Research Institution researches and develops production technology and equipment for regenerated green rubber to achieve high-quality regeneration of waste rubber. In this technology, the regeneration effect of waste rubber can reach up to 80% of that of virgin rubber and reduces the energy consumption by 30% with continuous, environmental friendly and pollution-free high-quality regenerated rubber production process. Combing with university-industry cooperation, it forms waste rubber regeneration technology and equipment with high added value and market share to make good technical preparation for taking part in international competition.
Advancement of our current technology:
1. No addition of chemical agent and secondary pollution;
2. It is a green technology for reducing carbon emission in the production process;
3. Simple process, fully automatic flow and high production efficiency;
4. The effect of regenerated rubber can reach up to over 80% of that of virgin rubber;
5. Rubber powder conversion rate is higher than 92%;
6. The regenerated rubber doesn't contain any chemical substances prohibited by the European Union and can be exported to the European Union and other countries;
7. It can replace rubber compounds and has high binding rate;
Technical indicators of device
| | |
| --- | --- |
| Desulfurization chemical solvent | None |
| | |
| Desulfurization time (min) | |
| Regeneration and conversation rate of waste rubber | 99% |
| Degree of automation | High |
Double-screw controllable-shear regeneration equipment